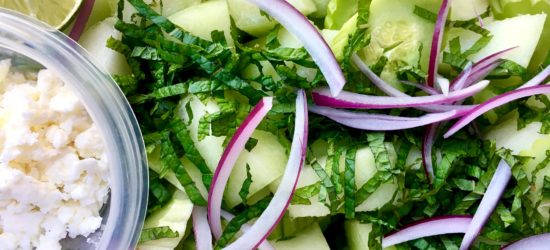 This recipe came about by standing in front of my open fridge and wondering what I should bring to a lunch gathering. It was very hot outside and I was short on time, so I was envisioning a dish that was simple, quick, tasty, healthy, thirst quenching, and party worthy. I had been working on gazpacho recipes and when my eyes landed on the leftover honeydew melon, cucumbers, and mint an idea started to form. I already knew those ingredients tasted good together and that savory watermelon salads were popular, so I re-purposed the melon gazpacho ingredients, used the pumpkin seeds for crunch, and crumbled in some feta cheese for a refreshing salad that's high in water, fiber, potassium, and Vitamin C.
½ honeydew melon, cubed
1 large cucumber with skin, organic and un-waxed if possible [see note below]
½ cup thinly sliced red onion
¼ cup roughly chopped mint, basil, parsley or cilantro
2-3 Tablespoons lime juice
1- 2 Tablespoons extra virgin olive oil
¼ teaspoon sea salt
2 Tablespoons toasted pumpkin seeds
2 Tablespoons crumbled feta cheese, optional
Prepare melon, cucumber, onion, and mint as described and place them in a large bowl. When ready to serve, drizzle salad with lime juice, olive oil, and salt. Toss to coat and top with pumpkin seeds and optional feta cheese.
Catherine McConkie 2017, all rights reserved
Chef C's cooking tips:
This is one of those "make it how you like it" or "what you have on hand" salads. Mild mannered melon and cucumber go well with many other vegetables!

Orange or red cherry tomatoes
Celery
Green apple

For a Latin twist, substitute cilantro for the mint and add cubed Jicama and 1 large jalapeno pepper, chopped
Season, age at harvest, growing and storage conditions all impact sweetness, "juicy" factor and taste of fresh produce. Have confidence adjusting the the ratio of honeydew to cucumber to your liking and tinkering with the amounts of lime juice, olive oil, and fresh herbs needed in order to make your taste buds come alive.
Cucumber with it's skin will add extra nutrients and fiber to any dish but they are consistently on EWG's dirty dozen list for high pesticide residue. Lightly peel the cuke if organic and/or un-waxed product isn't available
Posted by
Catherine McConkie, NC
| 0

comments