Honeydew Cucumber Gazpacho with Pumpkin Seeds and Basil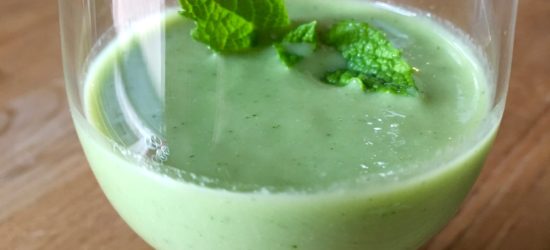 This fresh take on gazpacho is restorative, hydrating, and a perfect remedy if feeling fatigued or depleted. Members of the   cucurbitaceae or gourd family, honeydew melon and cucumber are a natural pairing. The pumpkin seeds in this chilled soup lend texture along with essential fats, fiber, and easily digestible proteins. Jalapeno pepper, citrus, and fresh herbs team up with the watery gourds to deliver a super fast, super delicious dose of  vitamin C, and potassium.                  
Makes about 6 cups
4 cups cubed honeydew melon
1 large organic un-waxed cucumber with skin, cubed [see note below]
¼ – ½ cup water
6 Tablespoons raw pumpkin seeds
1 Tablespoon roughly chopped fresh jalapeno
1 medium scallion, roughly chopped
2 Tablespoons lime juice
1 teaspoon lemon juice
1/8 teaspoon sea salt, to taste
¼ cup roughly chopped basil
2 Tablespoons roughly chopped Italian parsley
Place melon, cucumber, ¼ cup water, pumpkin seeds, jalapeno, scallion, lime and lemon juices, and salt into the blender container. Blend on high until very smooth. If soup is too thick, add more water in 2 Tablespoon increments to assist blending until desired consistency is reached.
Add fresh herbs and blend on high for another 30-45 seconds or until basil and parsley are finely chopped and well incorporated. Taste and see if another pinch of salt or lime juice is needed for balance. Serve chilled.
Catherine McConkie 2017, all rights reserved
Chef C's cooking tips:
Season, age at harvest, growing and storage conditions all impact sweetness, "juicy" factor and taste of fresh produce. Have confidence adjusting the the ratio of honeydew to cucumber to your liking and tinkering with the amounts of jalapeno, lime juice, lemon juice, salt, and maple syrup needed in order to make your taste buds come alive.
Variation: substitute ¼ cup roughly chopped fresh mint for the basil and parsley, increase fresh lime juice to 2 1/2 – 3 tablespoons.
Cucumber with skin will add extra nutrients and fiber to any dish but unfortunately these fruits are consistently on EWG's dirty dozen list for high pesticide residue. Lightly peel the the cucumber if organic and/or un-waxed aren't available.
Storing the melon and cucumber in the refrigerator before using them in the recipe saves time and will make this soup ready to eat in about 5 minutes.
Posted by
Catherine McConkie, NC
| 0

comments