Babaganoush with Fresh Herbs and Pomegranate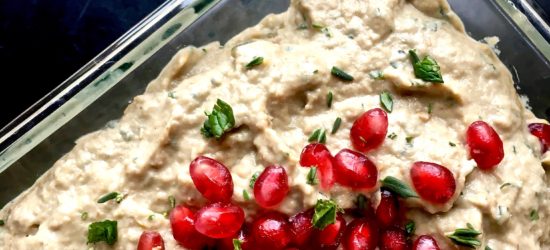 Sadly, this fall brought massive and destructive wildfires to the Golden State, our skies here in Northern California were blanketed with heavy, thick, dense smoke for weeks. The air quality was terrible 24/7, for days on end, causing many folks to experience headaches and respiratory symptoms, myself included. I started to wonder about the impact of ongoing exposure to particulate matter, and the levels of oxidative stress being generated from inhaling smoke from burning natural and man made materials. More than ever it made sense to replenish the body with fat and water soluble anti-oxidants, plus other key nutrients needed to produce and re-cycle glutathione, our main intra-cellular antioxidant molecule. This recipe was born in tasty response …high ORAC pomegranate and herbs, methylation supportive B's and folate from tahini and garlic, and the unique addition of the soothing, respiratory specific, herbs thyme and mint all joined hands to make this very delicious dip. True culinary medicine!
Babaganoush with Herbs and Fresh Pomegranate
Makes 2 cups
1 large eggplant roasted and peeled
3 Tablespoons tahini
2½ Tablespoons lemon juice
1 teaspoon pomegranate molasses ** see note
1 clove fresh garlic, pressed
1 teaspoon ground cumin
½ teaspoon sea salt
¼ teaspoon cinnamon
¼ cup tightly packed fresh mint leaves, roughly chopped
1 teaspoon fresh thyme leaves, roughly chopped
1 teaspoon lemon zest
Generous drizzle of extra virgin olive oil
¼ cup fresh pomegranate seeds
1-2 teaspoons toasted sesame seeds, optional
Preheat oven to 400 degrees. Use a fork to poke the eggplant in several places and place it, uncovered, in a baking dish. Roast until tender and completely soft, about 30-35 minutes.
When eggplant is cool enough to handle, slice off the stem end and peel. Place the cooked eggplant into the bowl of a food processor and pulse it a few times so it breaks up.
Add the tahini, lemon juice, pomegranate molasses, garlic, cumin, salt, and cinnamon. Process until the mixture is smooth and well combined. Taste and see if a bit more lemon juice, salt, or pomegranate molasses is needed.
Add the chopped mint, thyme, and lemon zest and pulse until well combined. Stir in 3 Tablespoons of the pomegranate seeds the garnish the top with some olive oil, the rest of the pomegranate seeds, and optional sesame seeds.
Catherine McConkie 2018, all rights reserved
Chef C's Cooking Tips:
Substitute ½ teaspoon maple syrup, date syrup, or raw honey if you don't have pomegranate molasses
You can also roast the eggplant on a piece of foil to save yourself some cleanup
No food processor? No problem. Just make sure that eggplant it nice and soft and use a potato masher or fork instead.
Posted by
Catherine McConkie, NC
| 0

comments