Veggie and Cauliflower Fried "Rice"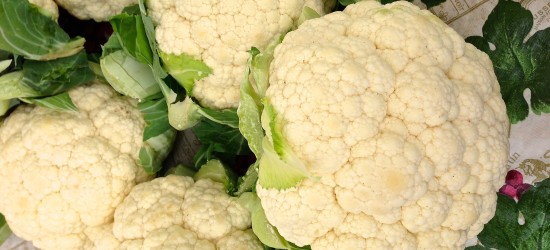 Classic fried rice gets a refined carb makeover by swapping white rice for finely chopped cauliflower. Almost any seasonal vegetable add-in will do…simply toss in whichever veggies are on hand and in minutes you'll have a colorful and nutritious, filling, one pan dish that's perfect for any time of day…breakfast, lunch or dinner.
1 head cauliflower, about 2 pounds
3 tablespoons extra virgin olive oil, divided
2 Tablespoons minced ginger
3 cloves garlic, minced
¼ teaspoon red chili pepper flakes, optional
1 generous pinch sea salt
3 eggs, lightly beaten
1 small red onion, sliced
3 stalks celery, sliced
2 cups broccoli florets, snap peas, or snow peas
1 red pepper, sliced
2 Tablespoons low sodium soy sauce
1 teaspoon rice vinegar or fresh lime juice
4 scallions, thinly sliced
Using a knife or food processor, chop cauliflower into very fine pieces, about the size of a lentil, and set aside.
Heat a wide skillet over medium heat and add 2T of oil. When oil shimmers, add the ginger, garlic and optional red chili flakes. Sauté for about 30 seconds, until fragrant, then add cauliflower and a generous pinch of salt, stirring until well coated. Cook over medium heat, stirring often, until cauliflower is tender, about 8 minutes. If pan becomes dry before cauliflower is cooked, add water, 1 tablespoon at a time and continue cooking. When just tender spoon cauliflower into a bowl and set aside.
Reduce heat to medium low and pour eggs into the skillet. Let them sit undisturbed for 30-40 seconds until they begin to set, then finish scrambling until they are cooked through. Remove eggs to the bowl with the cauliflower.
Return skillet to medium heat and add remaining tablespoon of oil. Add onions, celery, broccoli, red pepper and soy sauce. Sauté for 3-4 minutes until the vegetables are just tender, but still crunchy. Add the cauliflower and eggs back to the pan and mix everything together. Season with rice vinegar or fresh lime juice and top with scallions. 
Catherine McConkie 2015, all rights reserved    
Chef C's Cooking Tips:
For an even heartier version try adding ground turkey. Heat 1 tablespoon of oil and cook the meat with the ginger, garlic, and chili flakes. Remove to a bowl and proceed
Another possibility is to omit the scrambled egg step and, when ready to eat, top the fried "rice" with a poached egg
Many veggies can be chopped in advance and stored in containers in the fridge.
Not enough time to chop? Simply toss in a bag of prepared stir fry vegetables
Posted by
Catherine McConkie, NC
| 0

comments