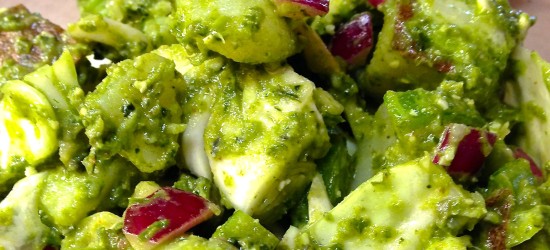 Maybe I should have called this salad something more like what it truly is. Meaning more like an anti-oxidant, anti-inflammatory, phytonutrient rich, beneficial gut bacteria feeding, pot of gold at the end of the rainbow or something. But then it may sound too "healthy" and you may not be as inclined to eat it. With a decent showing of cancer protective crucifers and alliums, this recipe has 10, yes 10!, different veggies that dance around with and within a vivid green pesto. And if that's not enough reason to dig in, the cooking/cooling method used for those high glycemic tubers converts some of their easily metabolized starch into non- digestible form known as resistant starch. This is a great dish to make in advance and can be done in stages as time allows. With no mayo to worry about it's a great summer potluck dish that holds well.
2 pounds potatoes, scrubbed and steamed whole [about 3 medium-large]
Pesto – makes about 2 cups
½ bunch kale, stemmed [about 4 cups loosely packed ]
½ bunch mustard greens, stemmed [about 4 cups loosely packed]
½ cup water
2-3 Tablespoons lime juice or ¼ cup apple cider vinegar
¼ cup pumpkin seeds
3 scallions, roughly chopped
1 jalapeno, seeded and roughly chopped
2 cloves garlic, roughly chopped
¾ teaspoon sea salt
½ teaspoon cumin
¼ teaspoon cayenne
½ cup olive oil
Salad
2 cups chopped cabbage
1 cup diced celery [about 2 stalks]
½ cup red onion, diced
5 radishes, quartered
3 hard boiled eggs, chopped [optional]
Either the night before or up until about 3 hours before serving, place the unpeeled potatoes in a steamer basket and cook until a small knife slips easily through their widest part, 25-30 minutes. Let the potatoes cool fully on the counter or if cooking them the night before, in the fridge.
While potatoes are cooling make the pesto. Add a generous pinch of salt to the water in the pot used for steaming potatoes and bring it back to a brisk boil. Drop kale and mustard greens in for about 30 seconds until wilted and very bright green. Drain the greens into a colander and immediately rinse with cold water to stop them from cooking further. When cool enough to handle, lightly squeeze out excess water.
Place ½ cup water, lime juice or apple cider vinegar, pumpkin seeds, wilted greens, scallions, jalapeno, garlic, salt, cumin, and cayenne in a blender or bowl of a food processor and blend until combined. With motor running add in oil and blend, scraping sides as needed, until ingredients are well combined. Taste and see if pesto needs another pinch of salt or splash of acid.
Cut the potatoes into cubes and toss them gently with 1 cup of the pesto. Allow to salad to mingle and rest while the remaining ingredients are prepared. Add cabbage, celery, onion, radishes and optional hard cooked egg to the bowl, tossing gently to combine. Taste and see if it needs another splash of acid or pinch of salt.
Catherine McConkie 2015, all rights reserved
Chef C's Cooking Tips:
• Lots of possibilities! Substitute celery with 1 cup diced jicama, Or add whatever you have…cherry tomatoes, shredded zucchini, diced red pepper, cilantro
• If your radish leaves are in good shape, go ahead and add them to the blanching water with the kale and mustard. They're nice and spicy.
• Remaining pesto has tons of uses; Replace mayo in deviled eggs or egg salad, stir it into canned tuna, perk up cooked veggies, stir into whole grains or legumes like lentils, chickpeas or white beans, top a piece of cooked chicken or fish, use in a wrap or stir into soup!
• The key for converting starch into resistant starch form is by allowing the potatoes, or other high starch items like white rice, to fully cool once cooked then taking care not to reheat to over 130 degrees.
Catherine@thecaregiverstable.com
www.thecaregiverstable.com
Posted by
Catherine McConkie, NC
| 0

comments