Mustard Greens – the eccentric relative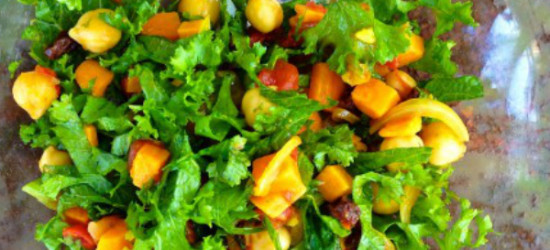 Like a lovable yet eccentric Auntie you never know what you're going to get with mustard greens. Sweet and spicy, potentially edgy and bitter, mustard greens can be unpredictable when it comes to flavor. As a result, many people approach the temperament of mustard greens with caution…or skip them over altogether . A member of the cruciferous family, these nutritional powerhouses can bring delight to the table and taste buds once you have insight as to how to work with them.
Inspired by freshly harvested mustard greens from the SFGH garden, this recipe combines complimenting flavor and texture from onion, chickpeas, sweet potatoes, raisins, and curry to provide a delicious, antioxidant and anti-inflammatory rich one pot meal.
Mustard Greens with Chickpeas, Raisins and Curried Sweet Potato
Serves 6
In this one pot meal, the flavor of pungent and peppery mustard greens harmonizes with creamy chickpeas, tangy tomatoes, sweet raisins, and fragrant sweet potatoes
1 bunch mustard greens, blanched and chopped
2 Tablespoons olive oil
1 small onion, sliced
2 cloves garlic, minced
1 pinch red chili flakes
½ teaspoon curry
1 small sweet potato, about 1 cup, diced small
¼ teaspoon sea salt
¼ cup water
1 can diced tomatoes, drained and juices reserved
1½ cups cooked chickpeas or 1 can chickpeas, drained and rinsed
¼ cup raisins
Bring a large skillet of water to a boil then add greens. Blanch for 1 minute and remove to a colander to drain. Give greens a quick rinse under cold water, and when cool enough to handle, squeeze dry. Chop and set aside.
Dry the pan and place it over a medium flame to heat. Add oil, and when it shimmers, add onions and a pinch of salt. Sauté until onions become limp and translucent, about 4 minutes. Stir in garlic, red chili flakes, and curry, sauté until fragrant, about 30 seconds. Add sweet potatoes, ¼ teaspoon salt, and water, stirring to combine. Cover and cook for 5 minutes or until potatoes are just tender. Remove lid and add the reserved tomato juice to the pan to deglaze, scraping up any browned bits stuck on the bottom. Add in chopped greens and another pinch of salt, tomatoes, chickpeas, and raisins, stirring to combine. Heat though and serve. Taste and add another pinch of salt, a few drops of lemon juice and/or maple syrup if necessary for balance.
Catherine McConkie 2014, all rights reserved
Chef C's cooking tips:
Blanching is a way to tame bitterness of mature greens. Taste the mustard and see what you think. When young, mustard gives a sweet spicy bite. This dish is just as delicious to skip the blanching step altogether. All you need to do is remove stems, chop up the fresh greens and stir them in at the end.
This is a versatile recipe. Substitute fresh kale, spinach, or chard for mustard greens, or carrots for sweet potatoes.
catherine@thecaregiverstable.com
www.thecaregiverstable.com
Posted by
Catherine McConkie, NC
| 0

comments