Cabbage and Apple Slaw with Curried Yogurt Dressing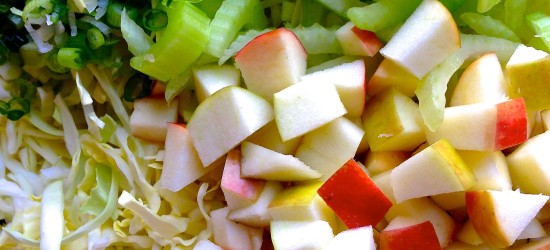 Recently I was invited to weave in an activity around food as part of a day long retreat for the busy General Medicine Clinic staff at San Francisco General Hospital. I wanted the recipes to be interactive and fun; yet tasty, easy, and highly nutritious. Once the plan was laid out 50 people got busy and knocked out massive amounts of CGT's Energy Truffles, Moroccan Carrot and Chickpea Salad and my "Waldorf" style Cabbage and Apple Slaw. They got everything done in under 40 minutes, chatting happily the entire time. When finished, folks even started to wash up and clean. Honestly, I've never seen anything like it. Now that's what I call a team!!!
Cabbage and Apple Slaw with Curried Yogurt Dressing
Serves 6
In this recipe I use yogurt in place of mayo and have kicked up the flavor and nutrition with the addition of curry. This bright crunchy slaw is packed with fiber, antioxidant and anti-inflammatory nutrients, vitamins, minerals, and healthy fats. Both refreshing and hydrating it goes together in a snap and holds up well in the fridge for a several days.
1 small green cabbage, shredded [about 6 cups ]
3 stalks celery, thinly sliced
3 small carrots, shredded
2 fuji, honeycrisp or pink lady apples – shredded or diced
3 scallions, minced
½ cup raisins
½ cup walnuts, toasted
Dressing:
1 cup plain Greek style yogurt
2 tablespoons apple cider vinegar
2 tablespoons honey
½ teaspoon curry powder
½ teaspoon sea salt
¼ teaspoon black pepper
2-3 tablespoons extra virgin olive oil
Prepare vegetables, apple and scallion as directed and place into a medium bowl. In a separate bowl add yogurt cider vinegar, honey, salt, pepper and oil, whisking until well combined. Pour about half of the dressing over the veggies and toss until they are well coated. Add in raisins and toasted walnuts and toss again. Add more dressing if desired.
Catherine McConkie 2014, all rights reserved
Chef C's cooking tips:
Leftover dressing will keep for a week in the fridge. It's delicious as a dip too.
catherine@thecaregiverstable.com
Subscribe to our quarterly newsletter to receive updates, practical tips, and more delicious recipes!
Posted by
Catherine McConkie, NC
| 0

comments