February – Heart-y Beet and Barley Salad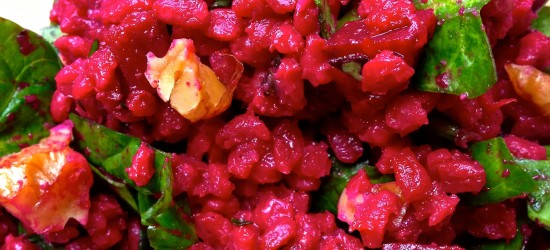 It's February….the month of the heart! When I think about words used to describe the heart, things like hardworking, vulnerable, steady, and loving are a few that come to mind. When I think of caregivers many of those same words apply. I came up with this dish in recognition of the vibrant pulse that beats within each of us. Fresh ingredients in this salad join forces to give maximum flavor plus provide abundant amounts of cholesterol lowering fiber, heart healthy fats, anti-oxidant phyto-nutrients, and cardio-protective vitamins and minerals. Enjoy!
Heart-y Beet and Barley Salad
Serves 10
1 ¼ cups whole barley, soaked, rinsed and drained
3 cups water
½ teaspoon sea salt
3 medium beets, peeled and diced small, about 2 cups
2 cloves garlic, very finely chopped
¼ teaspoon sea salt
¼ teaspoon black pepper
zest from 1 lemon, optional
6 tablespoons lemon juice
¼ cup olive oil
½ cup walnuts, toasted
3 scallions, thinly sliced
2 handfuls baby spinach, chopped
Bring water and sea salt to a boil in a pot with a tight fitting lid. Add barley, lower heat to a simmer, and cook covered for 15 minutes. Stir in diced beets and continue to steam, covered, another 20 minutes. Turn off heat and let rest for 10 minutes. Place the mixture in a large bowl to cool.
While barley and beets are cooking place garlic, sea salt, pepper, optional lemon zest, and lemon juice in a small bowl or jar. Whisk or shake to combine. Add olive oil and whisk or shake until well mixed. Pour dressing over grain and beets, tossing gently until well coated. Add in toasted walnuts, scallion, and chopped greens, tossing again to combine and serve.
Catherine McConkie 2014, all rights reserved
Chef C's cooking tips:
If you have time to soak barley for a few hours in advance it becomes more digestible and shortens the cooking time.
Hulled barley packs more nutrition than the pearled variety, but both types work. Hulled barley has a nutty flavor and wonderfully chewy texture. It can be found in the bulk section of supermarkets.
Cost per serving ~ .75 cents, Sodium per serving ~ 215mg
catherine@thecaregiverstable.com
www.thecaregiverstable.com
Subscribe to our quarterly newsletter to receive updates, practical tips, and more delicious recipes!
Posted by
Catherine McConkie, NC
| 0

comments