The absolute best – 20 dozen energy truffles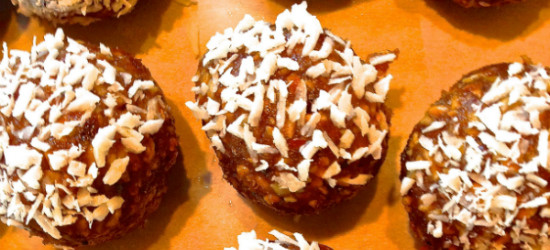 Yay for nurses! Those skilled, compassionate, patient, tolerant, and hardworking bedside healers who are the heartbeat of healthcare.
When asked to provide 20 dozen healthy snack during Nurse Appreciation Week for a chunk of the 900+ nurses at San Francisco General Hospital, I jumped at the chance. You see, I love and respect these people, I really do.
SFGH is my old stomping grounds. Having been an RT there and at some point over the years called to every nook and cranny of the hospital, I got to meet and work alongside many, many, amazing nurses. I know how hard they work, and in my view they deserve nothing but the absolute best.
Excited to give something back I began to calculate how many actual pieces 20 dozen translates to while simultaneously thinking about taste, ingredients, nutrient quality, efficiency, portability, and storage. Oh yes, and budget.
I decided that my energy truffle recipe fit the bill. Whole food ingredients, date sweetened, healthy fats and proteins, taste reminiscent of a Snickers bar. No gluten, no dairy, no refined sugars, no nuts. Perfect for that time of day when energy begins to slump and the urge for something caffeine-y and/or sugar-y starts to kick in. I call it the 4pm hour.
My assistant Lindsey and I began to brainstorm in the kitchen. I liked the taste, but our trials were either too big, too small, too plain, too chunky, too whatever but not "just right" enough for the nurses– yet. Hmmmmm. I'll know it when I see it, I thought.
In the end finding "just right" meant turning that initial 240 into 480 hand shaped, coconut dipped, placed in a confection cup then individually wrapped, tasty bites of energizing deliciousness. And I'm happy knowing that they've gotten the absolute best.
To nurses everywhere – thank you!
Pick Me Up Truffles
makes about 28
With their healthy fats and proteins, these high fiber, no refined sugar treats will help with afternoon energy slumps.
¾ cup dates (about 6 large), – pitted and soaked
¼ cup sunflower butter (almond or peanut butter also works)
1 teaspoon vanilla
¼ teaspoon sea salt
2 teaspoons date soaking water
1 ½ cups sunflower seeds,( or 1 cup roasted unsalted almonds)  finely chopped
2 Tablespoons ground flax seeds
¼ cup raisins or dried cranberries, roughly chopped
Shredded coconut for rolling (optional)
Place pitted dates in a bowl and cover with warm water. Soak until soft, about 15 minutes. Remove dates, reserving the soaking liquid, and chop them up by hand or in a food processor until a soft paste forms. Place date mixture in a bowl and stir in nut butter, vanilla, salt, and 2 to 3 teaspoons of the reserved soaking liquid. Mix until well combined.
While dates are soaking chop sunflower seeds (or nuts) until they are about the size of a grain of rice. Place them in another bowl. Add ground flax and stir to combine. Add date mixture to the chopped nuts and mix well. Fold in raisins.
Make balls by rolling about 1 teaspoon of the mixture with your hands. They are ready to eat right away or if you like them firmer, place balls on a cookie sheet and chill in the refrigerator for about a half hour.
Catherine McConkie 2012, all rights reserved
Cost per 2 truffle serving: 35 cents
catherine@thecaregiverstable.com
www.thecaregiverstable.com
Subscribe to our quarterly newsletter to receive updates, practical tips, and more delicious recipes!
Posted by
Catherine McConkie, NC
| 1

comments