Celery…. Really????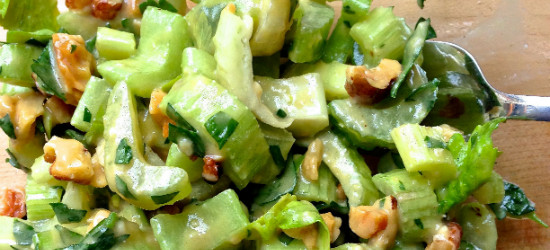 I mean who actually dives towards the crudité platter for sticks of celery? Plain and misunderstood, many people find it….ummm….boring bunny food. [Though celery sticks are useful transport vehicles for big scoops of dip or dressing, I suppose.]
Typically a background player, celery is a delicious flavoring for soups and a definite for stuffing the Thanksgiving bird, but hardly ever does it take center stage. It's mostly humble and there when you need it, or else quietly going limp in the bottom of the veggie drawer.
Well guess what? Celery is anything but a benign flavoring agent or boring bunny food! It's a rock star vegetable that's loaded with nutrition and health benefits. First off, it's about 95% water, which makes it an excellent food when one doesn't drink adequate fluids. It's a source of natural sodium; 1 stalk has about 35mg, balanced out by approximately 3 times the amount of sodium's mineral partner, potassium. This is good—the intra/extra cellular water stays where it's supposed to.
Excellent vitamin K, vitamin C [highest in the leaves], and folate levels in celery provide crucial nutrients for bone and cardiovascular health. Celery contains a plethora of antioxidant and anti-inflammatory phytochemicals as well. Two standouts are apigenin, also high in parsley, which helps protect DNA from oxidative stress and has been found in studies to protect against UV radiation. Luteolin, a flavonoid also found in parsley, functions as an antioxidant and reduces inflammation by decreasing NFkB signaling. This makes celery a good ally to soothe nagging aches and pains.
Celery is full of vitamins and minerals, non-starchy fiber, water, antioxidants and anti-inflammatory compounds. What's not to love?
I got to thinking about ways I might give this vegetable a flavorful makeover, give it a little razzle dazzle that might make someone want to include celery beyond the crudité platter.
My goal was to create a fresh and fast salad that would keep well, so I teamed sliced celery with lots of fresh parsley and tossed it with miso mustard vinaigrette. I then topped it with toasted walnuts for roasty depth, healthy fats and energy sustaining protein. Chopped egg, shredded chicken or tuna would also taste wonderful. I found that what came out was a delicious, filling, and invigorating lunch. Enjoy!
Celery??? Yes….Really!!!
Celery and Parsley Salad with Miso Mustard Vinaigrette – serves 4
Who would have thought that humble celery could transform into a quick and delicious lunch? Invigorating and fresh, this powerhouse salad is hydrating plus chock full of nutrients and phytochemicals that help keep blood sugars level, kickstart digestion, and reduce aches and pains.
Dressing:
1 Tablespoons white miso
1 Tablespoons Dijon mustard
zest of 1 lemon or lime
1 Tablespoons lemon or lime juice
1 teaspoons maple syrup
2 Tablespoons extra virgin olive oil
pinch of sea salt
Salad:
½ bunch celery with leaves, cut crosswise into ½ inch slices
½ cup flat leaf parsley
¼ cup walnuts, toasted and roughly chopped
1 can albacore tuna, optional
Whisk dressing ingredients together in a small bowl and set aside.
Prepare celery and parsley as directed and place in a large bowl. Toss with dressing until well coated.
Top with toasted walnuts and optional tuna, tossing to combine.
Catherine McConkie 2013, all rights reserved
Time saver: Take 5 minutes to chop up celery and parsley and place them, undressed, in the fridge in a covered bowl or Ziploc bag. Make dressing and toast walnuts, storing each in separate containers. When it's time to think about what to bring for lunch, pour a couple tablespoons of dressing into the bottom of a portable container, shake some of the celery/parsley combo on top and toss a little handful of the toasted walnuts over. Throw a couple of hard cooked eggs or a small can of tuna in your bag if you want. When it's time to eat simply shake it all up so it's coated and top with the extra protein. Lunch is ready in a flash!
Miso is a slightly sweet fermented soybean paste. It contains protein, is a rich source of B vitamins and has beneficial bacteria for the GI tract.
To toast nuts, preheat oven to 350 degrees. Place walnuts on a cookie sheet and roast for 10-12 minutes until fragrant and slightly browned.
catherine@thecaregiverstable.com
www.thecaregiverstable.com
Subscribe to our quarterly newsletter to receive updates, practical tips, and more delicious recipes!
Posted by
Catherine McConkie, NC
| 1

comments