Greens, Glorious Greens!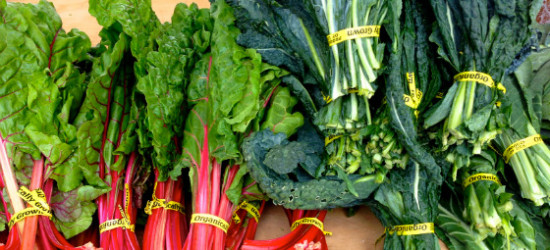 While strolling along at the farmers market recently these beauties caught my eye. Loaded with stress busting magnesium, energy producing iron and bone strengthening vitamin K, dark leafy greens pack a wallop when it comes to a source of concentrated nutrition.
From a culinary standpoint there is even more good news. Once you understand them, leafy greens taste great! Whether raw or cooked, dark leafy greens are amenable to a multitude of uses, ingredients, and flavor combinations. Flavorful, nutritious, and plays well with others. What could be better than that? Here is a basic sautéed greens recipe and some notes to serve as a springboard for your imagination. Let me know how it goes!
Sautéed Greens – Serves 6
2 tablespoons extra virgin olive oil
½ medium red onion, [about ¾ cup] thinly sliced
2 cloves fresh garlic, minced
1 pinch red chili flakes
3 bunches dino kale, curly kale, or chard, [about 10 cups] washed and torn into bite sized pieces
Generous pinch of sea salt
1 teaspoon lemon zest
½ – 1 teaspoon lemon juice, to taste
1/8 teaspoon maple syrup, if needed for balance
Heat olive oil in a medium skillet over medium heat. When oil begins to shimmer, add the onions and a pinch of salt. Sauté until onions are translucent and beginning to caramelize, about 6 minutes. Add in garlic and chili flakes, sauté until aromatic; about 30 seconds. Add greens, in batches if necessary, and a generous pinch of salt, tossing to wilt. Continue to cook, uncovered, until greens are tender but remain bright green; about 6 minutes more.
Add in zest, lemon juice, and a bit of maple syrup to balance excessive bitterness.
Chef C's cooking and storage tips:
I find it helps to wash and tear my greens right after I buy them. That way they are ready to go! Just spin 'em dry and store loosely in a plastic bag in the fridge.
Leftover cooked greens will store well in an airtight container and can be added to soups, tossed with whole grains or legumes or serve as a nutritious bed for a piece of chicken, fish, or poached egg.
No lemon on hand? Just use red wine, apple cider or rice vinegar instead.
Subscribe to our quarterly newsletter to receive updates, practical tips, and more delicious recipes!
Posted by
Catherine McConkie, NC
| 1

comments